So I am in Phoenix for a customer meeting and my customer, having already been entertained to a heavy lunch a few hours earlier, demurred on dinner, leaving me to an evening alone. The city is currently packed due to the NCAA championships and spring training, so restaurants and bars are filled to overflowing. While I waited for the crowds to thin, I decided to kill some time by swinging by
one of the Indian casinos in the area
. I wasn't interested in gambling so much as just checking the place out.
In a nutshell: take the
worst
casino you have ever been to in Nevada, make it a
little
worse, and take out the craps tables.
The thing that really blew me away:
Bingo
. I took a picture, but unfortunately the camera phone defaulted to the smallest resolution, but what you are seeing here is a giant room with over 500 people (literally) with an average age of 68 playing bingo: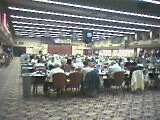 The rest of the place was nearly all slots, although they did have a few blackjack and poker tables. Maybe I have become a little snobbish after all my visits to Vegas, but definitely not a stop for the jet set.