As noted before,
I have been thinking about adding on to my house
. I have a large back yard and plenty of room to expand (especially after
getting rid of a large tree
) . I worked on this project for a few weeks, but it turns out getting an architect and contractor was just impossible. With the
boom in housing prices
, everyone is expanding, booking everyone out for months and months. After a few weeks, the Mrs. and I sat down and thought about this project again.
The largest asset our home has is the back yard. It's huge by SoCal standards. But it really isn't anything more than a large swath of grass with a small patio. Here is a picture from the far corner of the yard looking at the back of the house: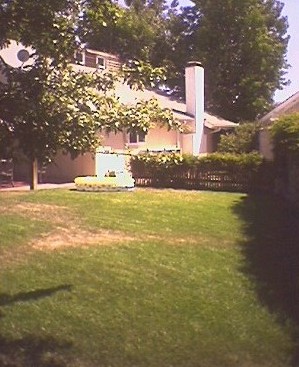 We thought: what if we re-landscaped the back yard to make it nice for entertaining? Essentially making it an "
outside room
". We did some research and the comparison was pretty compelling:

And by cool, I mean a built-in island with a stainless gas grill, outdoor fridge, bar area for people to hang out, fountain trickling in the background, lots of landscaping, the works.
So over the past few weeks we have selected our contractor (a topic for another post) and have started on a preliminary plan, with "deconstruction" starting today:
(we are also doing a new back fence, so it's gone right now as well).
Here is the preliminary plan. It is only a rough draft and will change as we put the actual layout in the dirt with spray paint. We do want to make sure the new patio area isn't in the way if we (or another owner) decides to do the room addition later. For a sense of scale, the back fence (which doesn't quite fit into this scan) is just over 100 feet: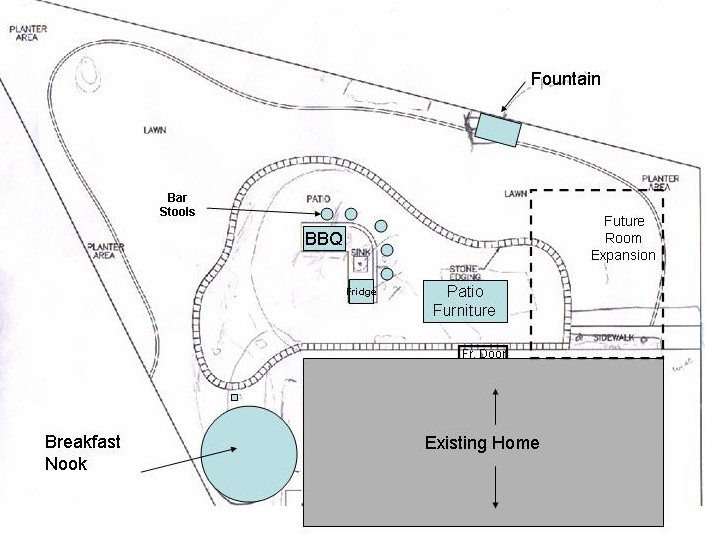 Our yard's shape is a little strange since we have the house at the very end of a culdesac, so it's a little "wedge" shaped, but it gives us a very large yard. Will keep posting as this progresses, then everyone will be invited over for a party.