Our favorite Japanese restaurant couldn't fit us in for over half an hour. Being hungry, we started heading towards a pretty good Mexican place when we passed a restaurant we had never seen before:
Agora Churrascaria
. Thinking it might be like
Churrascos
, one of our favorite restaurants in Houston, we decided to walk in. This was our first mistake: going into a restaurant without checking it out before hand.
We walked in and the decor seemed nice enough. We were escorted to one of the few open tables and were asked if we had been there before. We said we had not, so the hostess went on to explain the "concept" of the place, which I have copied here from their web site:

Agora Churrascaria is a Brazilian steak house...where waiters, dressed as Gauchos (local ranchers of the South), move from table to table carrying skewers of meat, from which they slice portions for their guests.

The hostess then went on to explain it was all-you-could-eat and included a salad and side bar. Mrs. Director and I looked at each other dubiously. Both of us hate buffet style eating, and this "gaucho" thing was a bit strange. But we were already seated and it would have been rude to get up and walk out at that point: Our second mistake.
The hostess left. We didn't know how much this little adventure - which this was now - would cost us. There was neither a menu nor price list available. We looked around and saw a bunch of kids. Families? All you can eat? Fairly crowded? We assumed whatever we thought of the place, at least it wouldn't set us back that much. Our third mistake.
So we decided to give it a go and went to the salad bar, which had not only "salads" but also potatoes, veggies, salmon, shrimp, and other hot and cold dishes to go with the meat dishes. We loaded up and went back to the table to wait for a gaucho to come by. We waited quite a while, so ended up eating all the sides first, which were all pretty good, so no complaints there other than the buffet style.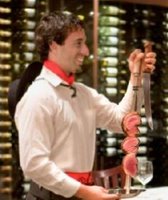 The, gauchos, when they finally come by, introduce what they are serving: "strip steak", "flank steak", "baked chicken", "pork wrapped in bacon", and so on. They carry the skewer in one hand and a long knife in the other. They then cut off a portion and
flit
walk to the next table with their two phallic symbols.
We had a couple of problems with this "concept". First, both the meat and the gauchos were both very rare. It may be an "all you can eat" place, but we waited ten or more minutes on average between gauchos. And if you didn't like what he was carrying, or how it was cooked, it meant for a mighty long wait between bites of meat. What came out was also pretty random, so you didn't even the kind of choices you would get at a real buffet.
Both Mrs. Director and I also thought the cuts of meat were poor. They were either too tough or too fatty. We reasoned that as an all-you-can-eat place that they have to keep costs down, but they seemed to manage that with the long waits between dishes.
We didn't so much have enough as just lose patience in waiting and asked for the bill. We didn't have any alcohol (we were going to do that later at home), and figured we were in for about $30 of damages each. Actual cost: $50 each (including tax and tip), no alcohol.
As our babysitter remarked when we told her the story, "
You could have gone to a really nice place for a hundred dollars
!". She's was absolutely right.