The California Insider
posts
that "Rob Reiner and the California Teachers Association are preparing to file a ballot measure for November, 2004 that would increase commercial property taxes by 55 percent and dedicate the money -- $4.5 billion annually -- to expanded pre-school and K-12 education."
"
For education
" is used almost as much as "
for the children
" as an excuse to raise taxes. After all, spending more money on education will make our kids smarter, right?
Wrong.
Study after study after study has shown that more money doesn't improve education. Here's a graph from the
Heritage Foundation
showing the real (inflation adjusted) spending on education and test scores.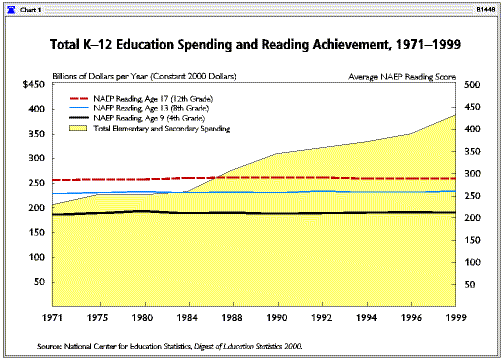 You will see (and the graph is somewhat small) that scores (straight lines) are practically unchanged despite a nearly constant increase in spending (yellow area). Similar graphs posted in this month's issue of Forbes (not yet on-line) show the same thing. A great article I found by
Cal Thomas
lists all sorts of facts and figures showing the continuing increase of government spending in education and absolutely nothing to show in terms of better education or test scores.
A comment I read recently - I thought by Thomas Sowell but I can't find it - stated that education is not something you can buy by the truck load and dump on the curb of the nearest school to improve children's education. Education has to be sought. It has to be a goal, a priority, driven into students by their parents and the community. We often hear stories of children that show up in this country from some distant land with no understanding of English, then winning spelling bees and other academic achievements in just a few years. This isn't because more money was spent on them, but because they had a drive to learn and excel.
It will be interesting to see how this money grab plays to voters. It is aiming at "education" and it is targeting "evil" businesses who have pocket-fulls of money, so there is a real chance that our uneducated voters will vote to spend more money on our uneducated students.