As I
noted before
,
Comdex
, which used to be THE high-tech trade show in North America has really fallen on hard times. Attended by over 200,000 people at its peak, it was the venue for major announcements of new products, technology trends and innovative ideas, a role now filled by the Consumer Electronics Show (CES), which is scheduled every January, also in Vegas (they have a link, but it is currently down).
Comdex, having lost the battle to CES, is now focusing on software and IT, making it less glamorous and less attended. Attendance, forecasted at 50,000 by the show's coordinators, was estimated at 30,000 by the Las Vegas convention bureau (other estimates are at 40,000). I don't know which number is correct, but I can say that it was very sparse and the number of booths were a fraction of what they used to be.
Due to the change of the show's nature, I saw no real product trends in areas I specialize in: consumer electronics, semiconductors, and wireless technologies. Those people in IT who went to the show could probably comment better than I could about announcements made in security and digital enterprise, two main themes of the show, and I recommend going to the Comdex web site if you are interested in these areas.
In short, the show was a waste for the segments
I
specialize in, but I saw a few things that were sort of interesting.
France has Technology?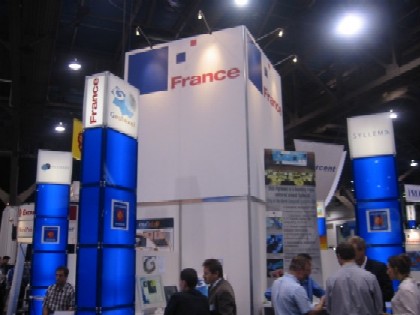 This was surprising. Some of the products being showcased included:
SurrenderCell
(TM) - A very impressive cellphone technology, this system generates surrender voicemail messages to ALL enemy cellphones any time an invader passes into French territory.
InstultAmerica
(TM) - This software product takes
any
American policy and automatically generates insults about it. Apparently Michael Moore consulted on the project.
VacationCount
(TM) - A software program created on the demand of French industry to keep count of the months of vacation time given to the average French worker. Apparently the core technology was derived from
UnemploymentCount
(TM), a technology created in France to keep count of unemployment rates above 10%.
Outsourcing to Armenia
You heard it here first, people. As companies lay off people to outsource to Armenia, you can bet the democrats will make this an issue in the next election. I'm just surprised that the dems didn't try to shut the booth down, but they apparently were in the area since the guy in the booth can smell them.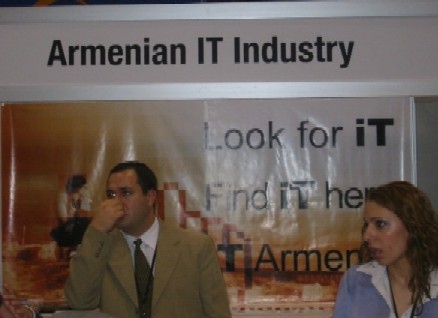 Warp Drive?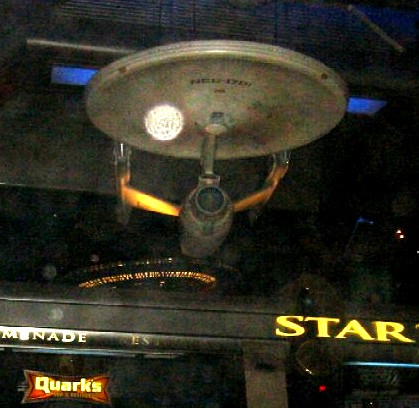 Introduction of a new space travel technology? Oh, wait, that's a BAR. I must be in Vegas.
I'll be back in January for CES, which should be a better show in terms of technology trends and consumer electronics and will report on it.