After noticing that Jim Carson blogged on a
banana bread recipe
, I thought I would add my recipe knowledge to the blogosphere in a area I know well: martinis. I always get compliments on my apple martini recipe, so I thought it would be the best one to pass on. It may seem very simple, but it took me many, many trials and errors to come up with just the right ingredients and ratios, a search for martini perfection that I thoroughly enjoyed.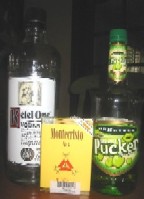 Ingredients
- Kettle One Vodka, Dekuyper Apple Pucker (don't use other Apple mixer liquors - this is the best one. Vodka is a matter of taste, but I think Kettle One is a good premium vodka that isn't extremely expensive).
Optional Ingredients
-
Illicit Cuban cigar
(pictured above), Apple Schnapps
Ingredients Not To Use
- I tried many, many ways to make this and recommend not adding real apple juice, using gin instead of vodka, or using a low-end vodka.
Instructions
- Mix two parts Apple Pucker with one part Vodka. Mix in martini shaker (I prefer mine shaken, not stirred, to the point where small ice chips appear on the top of the drink after pouring). For an extra kick add a
small
amount (like a cap-full) of apple schnapps before mixing. Enjoy your capitalistic decadence with a socialist Cuban cigar.