No, not the pres. The hotel. After
my last hotel fiasco in Japan
where my suite didn't provide a personal geisha, I pounded on my travel department. They wised up and decided to try to mollify me by putting me in the
W
on my stay in San Francisco this week.
When the cab dropped me off I thought he had made a mistake and dropped me off at a disco. It was pretty dark, but there were some flashing lights that brought my eye towards a fully stocked bar surrounded by people swaying to the techno music blaring over the speakers. I looked up and saw people leaning over rails for the two stories that opened up above the bar area. The strobe lights lit up couples laughing and drinking on the upper stories. Towards the back I saw people lounging on couches, drinks in hand, chatting and listening to the music. I looked back over my shoulder hoping to escape, but the cab was gone. I looked around me again and this time caught a sign:
CHECK IN THIS WAY
. The "disco" was their lobby (yes, the cab could have taken be to a door that went straight to the relatively normal looking check-in area, but I guess the cabby thought I needed to party first).
The check-in went smoothly and I went up to my room. Now, I have spent literally over a thousand nights in hotel rooms since I have been working. A
conservative
estimate would be:
17 Years Worked * 12 months/year * 5 days average travel/month = 1020 Hotel Nights
This means I have stayed in hundreds of hotels, and I have found that business hotels are all pretty much the same: industrial bed, institutional desk, musty drapes, okay TV system.
The best way to describe my room at the W would be: I was staying in the spare bedroom of a rich, single guy's condo. I walked in and found the high-end, vertical CD stereo system already playing some new-age, up-tempo music, not too off from what was playing in the downstairs disco. There were plantation shutters opening up to the Bay Bridge in the background (sorry about the cellphone cam):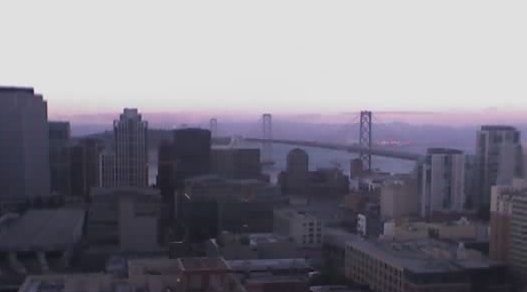 There was an Etch-a-Sketch, yes, one of those toys, on the desk. The room looked like an inviting place to hang out in, but after a few moments of doodling, I decided I wanted to catch dinner and ventured back down to the disco.
They had snacks and such at the bar, but I wanted a meal and ended up at their restaurant "XYZ" (how clever) next door. Now, this is a small food place. So I just kept ordering more and more small food until I made one big meal. Small food costs big money, so my meal ended up costing a lot, but, hey, I was on an expense account. The martinis were excellent, and should be at $10 a pop.
After my two, maybe three?, martinis I went back to my room and fell straight asleep in the big comfy bed. I woke up too late the next morning to hit the spa and gym, which people rave about, so I can't review it here. Maybe I'll hit it the next time I go.
To sum it all up, I would describe the "W" as THE place to take someone for that first time you are going sleep with them. If you're alone on business, I'll say that it was a very refreshing change from the normal, dreary business hotel.