Did you know bamboo blooms only once every 60 years?
I learned this from a Holiday Card from a colleague in Asia (and
checked it on Google
, with most sites saying "25 to 100 years"). Unfortunately, my friend left the greeting in his native language, so I tried using
Babblefish
to translate it. Here is the picture of the bamboo flower, along with Babblefish's translation: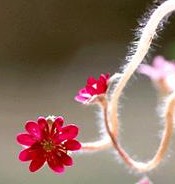 The large bamboo tree flower which blooms at only 60 years. It shows good fortune and it gives a flower of legend all. Today the good fortune to you. Everybody, the delay which it loves or, tries to send up contents to the friends ~ the good fortune will search even at surroundings minute and it will come!
Okay - I think the general gist of the message is that the bamboo flower, blooming once every 60 years, is a harbinger of good fortune. Its rare blooming should remind us to keep up with friends and loved ones...or something like that. (Anyone else want to take a swag?)
Pretty nice card, really, and will likely be the most unusual this season.