MIT is running a blogging survey. Like any on-line survey where participants are self-selecting, there is an issue of how accurate the results are, but with over 50,000 people participating so far, my guess is that the results are statistically accurate.
I thought the age distribution graph to date was interesting. When you re-log in to take a look at the results, it highlights your answer. So you can see in the graph below where I stick out as an old man in blogger land, although my guess is that all the "majors" are up there with me.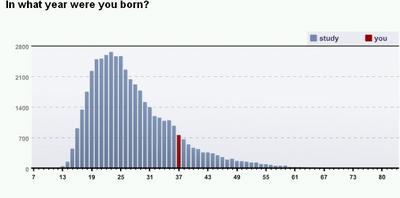 Click on the below to take the survey yourself.